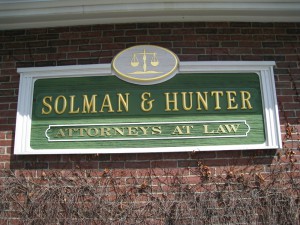 Located in central Aroostook County, Solman & Hunter, P.A. is a full-service law firm providing legal services in a wide variety of areas including general litigation, real estate, personal injury, municipal, wills and probate, criminal, divorce, social security disability, bankruptcy and corporate. We represent clients in Caribou, Presque Isle, Fort Fairfield, New Sweden, Washburn, Limestone, Fort Kent, Madawaska and other towns throughout northern Maine.
The firm was founded by David Solman who established a law practice in Caribou in 1938. He was joined in 1955 by his nephew, Richard N. Solman, who was at the time the youngest attorney to have passed the Maine and Massachusetts bar. The firm continues today with partners Richard D. Solman and Scott G. Hunter.
In all areas of practice, the firm strives to meet the legal needs of our clients by providing a high level of service based on sound practical advice with the utmost honesty and integrity.